Jacobite Cruises' Loch Ness centre plan delayed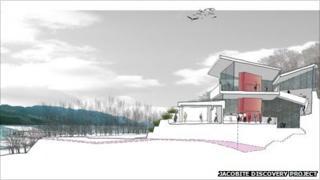 A company that runs cruises on Loch Ness has suspended its plans to build a £2.5m visitor centre on the western shores of the loch.
Jacobite Cruises was given full planning permission in 2011 for the building at Brackla.
In a statement, the firm said it was delaying the project and instead was working with another business on upgrading existing facilities.
Jacobite Cruises said rising costs were among the reasons for the decision.
The company has entered into an agreement with Robert Bremner, who runs the Loch Ness Centre and Exhibition and Clansman Hotel.
Mr Bremner plans to upgrade the centre, which Jacobite Cruises said would benefit the harbour it uses on the loch.