Red panda cub unveiled at Highland Wildlife Park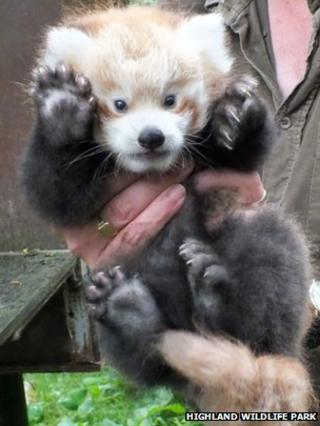 A red panda born at a zoo earlier this summer has been confirmed as a male.
Named Kush, the cub is a first for the Highland Wildlife Park near Aviemore and the first at a Royal Zoological Society of Scotland site in 13 years.
The panda's parents are two year olds called Kitty and Kevyn. They were brought to Scotland from zoos in Germany and Denmark.
The wildlife park's Douglas Richardson said: "Kush's current preoccupation is eating and sleeping."
Mr Richardson added: "He was fairly affronted when we interrupted his afternoon nap to give him his initial examination.
"There was a little bit of growling and barking and trying to appear big and dangerous when we were examining him, but it was a little difficult to take something that cute and fluffy seriously."
Kush was born in June.
Red pandas were once thought to be closely related to the giant panda, but genetics has shown they are more closely allied with the raccoon and weasel families.