New toilet at remote Sutherland Stoer Head Lighthouse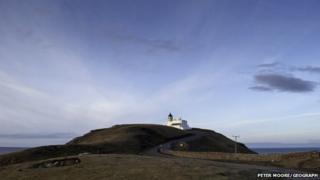 An appeal has helped to pay for the cost of providing a public toilet at a remote location in Sutherland.
Stoer Head Lighthouse gets up to 10,000 visitors a year but the nearest toilet is about six miles (9km) away along a single track road at Clachtoll.
Leigh Sedgley, who runs The Living the Dream tea van at the lighthouse, said "wild toileting" near Stoer Head was unpleasant and unhygienic.
A public appeal was launched to pay for a toilet and it raised £1,000.
Assynt Community Association, Highlands and Islands Enterprise and Highland Council have also contributed funds to the dry composting toilet.
People will be asked to pay £1 for use of the toilet and profits raised will go towards community projects.
Stoer Head Lighthouse was built on Sutherland's north west coast in 1870.
Its keepers and their families kept cattle and pigs at the site so they could be self sufficient.
The lighthouse became automated in 1978.
"Wild toileting" has been an issue in other parts of the Highlands.
In May, hillwalkers were warned that going to the toilet on lingering patches of snow could cause them to slip and injure themselves.
Mountaineering Council of Scotland safety adviser Heather Morning said the situation could pose the greatest risk to women.
She said a friend had sought out a discreet place "to go" and ended up sliding down a patch of snow with "her pants round her ankles".
Ms Morning said her friend slid a few metres on to grass and was unhurt.
Earlier in the year, a Sportscotland Avalanche Information Service forecaster could barely contain his anger at narrowly avoiding a pile of human excrement on his walk up Coire Ardair in the Highlands.
Later, in a blog, he wrote: "Right next to the path, not even 10 metres away behind a boulder or tree where it might be discreetly hidden. No, close enough so that you might accidentally tread in it."
He said whoever was responsible could easily have gone to a public toilet just 20 minutes walk away.