Skye's Sconser ferry terminal upgrade finished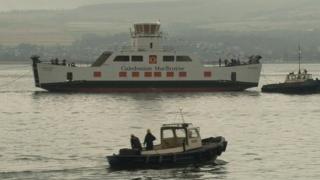 A £2m project to refurbish a ferry terminal on the east coast of Skye has been completed.
Sconser has been upgraded so it can accommodate Caledonian MacBrayne's new ferry MV Hallaig. Highland Council and European funding paid for the work.
The roll-on roll-off ferry incorporates a low-carbon hybrid system of diesel electric and lithium ion battery power.
The vessel will start running between Sconser and Raasay's Churchton Bay terminal in the autumn.
The new terminal on Raasay was opened in 2010 following concerns over the poor state of the old pier at Suisnish.
Built at the Ferguson Shipyard in Port Glasgow, the MV Hallaig is undergoing sea trials on the Clyde.
When it enters service later this year, it will be charged overnight while it is berthed at Raasay.
The ferry's name comes from a poem written by Gaelic poet Sorley Maclean about Hallaig, an abandoned township on the island.
Hallaig was cleared of its residents in the 1800s during the Highland Clearances when communities in the Highlands and Islands were evicted from land to make way for large-scale sheep production.
Graham Phillips, chairman of Highland Council's transport, environmental and community services committee, said the authority was delighted with Sconser's improved terminal.
A new waiting room and toilets, car parking and marshalling facilities and a remodelled slipway were parts of the refurbishment.
Mr Phillips said: "This is good news for the residents of Raasay and the general travelling public. We now look forward to the new ferry arriving later in the year."