Caithness death crash case involving Leicester cyclist dropped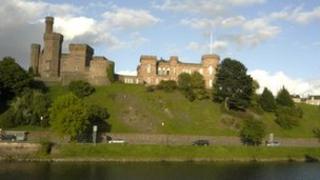 A case against a 95-year-old woman accused of killing a cyclist by dangerous driving has been dropped.
Alice Ross, of Lybster, is thought to have been the oldest person in Scotland to have faced a High Court indictment.
She blamed a rare medical condition for causing the accident in which Elaine Dunne, 30, from Glenfield, died.
The Crown has apologised for its late assessment of medical reports lodged by the defence that led to the case against Mrs Ross being dropped.
A fatal accident inquiry into Mrs Dunne's death will now be held at a later date.
At the High Court in Inverness, the Crown apologised to Mrs Dunne's family and to Mrs Ross for what were described as "communication breakdowns and errors".
It was alleged that Mrs Ross, who was not in court, drove onto the wrong side of the A99 Wick to John O'Groats road on 21 September 2011.
It was claimed that she mounted a verge, drove along a pavement and hit Mrs Dunne.
Mrs Dunne and her husband Christopher, who was severely injured, were on a week-long holiday in Scotland to celebrate their first wedding anniversary.
They had been standing with their bikes at the time of the incident.
Mrs Ross blamed a medical condition for what happened at Auckengill, near Keiss.
Her lawyers lodged a special defence of automatism. A document lodged at the High Court in Edinburgh in March claimed she was unconscious at the time.
The medical condition, which was not self-induced and not foreseeable, caused a fall in blood pressure which led to a "profound faint", the document said.
'Great regret'
Advocate depute Ian McSporran told the High Court in Inverness that the Crown had not properly instructed its own assessment of the medical reports until last week.
He added that he only got sight of that assessment 24 hours earlier, and that it concurred with the defence's conclusion.
Mr McSporran told judge Lord Tyre that it was a "matter of great regret" that the situation had increased the anxiety of those involved in the case.
He said: "I can do little more than apologise for it and accept responsibility."
Mrs Dunne's husband and members of her family were in the court. Some of them were in tears as they listened to Mr McSporran.
After dropping the prosecution, the advocate depute said the procurator fiscal's office had been instructed to hold a fatal accident inquiry (FAI) into the case.
Mr McSporran said: "There is no suggestion that Mrs Ross ought not to have been driving on that day or that she would have failed any appropriate medical examination as to her fitness to drive.
"This condition is said to be three times more common in those over 80 than those under, and the public interest is best served by the holding of an FAI."
Mr McSporran went on: "Mrs Ross is described as being oblivious by a paramedic who attended the scene and she is said to have commented that it was just as well that no-one else had been involved.
"She had no awareness at all of what had happened."
'Unnecessary distress'
The advocate depute said that this entirely fitted with the consensus of medical opinion that Mrs Ross had suffered a medical event that she had no awareness of at the time.
He added: "It is possible to test for the condition but not practicable in a patient of Mrs Ross's age.
"On the balance of probability and in the absence of another explanation, the Crown has to accept the medical opinion.
"Therefore, continued prosecution of this indictment would be inappropriate. I can and do apologise for the communication breakdowns and errors."
Mr McSporran said the Crown had an opportunity earlier to take notice of the defence medical evidence and react to it but had failed to do so.
Defence QC Ian Duguid apologised on behalf of his client who he said "recognised her part in the extraordinary events of that day".
He said: "I am instructed to express her sincere condolences to Mr Dunne and his wife's family.
"It was a terrible tragedy and it would be wrong not to record that she is well aware of the consequences."
Lord Tyre said: "I have recognised that the handling of this case has caused unnecessary distress to both sides.
"When something goes wrong, steps have to be taken to make sure it doesn't happen again."