Prince Charles on holiday at Castle of Mey in Caithness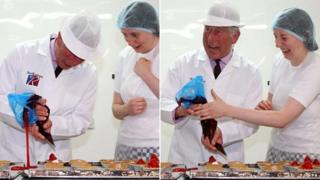 The Duke of Rothesay is carrying out a series of engagements in the far north of Scotland while on holiday at the Castle of Mey on the Caithness coast.
The property was the late Queen Mother's home in Scotland.
During a visit to Reid's bakery in Thurso, Prince Charles tried his hand at making strawberry tarts with help from worker Lauren MacKenzie, 19.
He later visited a wild flower meadow at Dunnet Bay. On Saturday he attended the Mey Games.
Last week he visited Tain in Easter Ross.
Following Prince Charles' first attempt at using a piping bag while decorating pastries, bakery worker Miss MacKenzie said: "He did very well.
"He didn't grasp the bag tight enough at the top, but I think he did really well."
Castle of Mey, formerly known as Barrogill Castle, has been owned by the Royal Family for more than 60 years.
The Queen Mother first saw the property in 1952 while mourning the death of her husband, King George VI.
She acquired the most northerly-inhabited castle on the British mainland and had it renovated and restored.