Call for end to 'elephant racing' on A9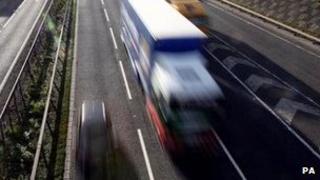 A new online campaign is promoting a 20-point plan that its organisers say will make the A9 road safer.
Called the Real A9 Users, it wants new speed limits and more barriers.
It also calls for an end to "elephant racing" - drivers of slow moving vehicles overtaking similar traffic on short stretches of dual carriageway.
The campaigners said their interim measures could be put in place while the A9 was fully dualled between Perth and Inverness.
Last month, the Scottish government announced that an average speed camera system would be installed between Dunblane and Inverness to improve safety.
Ch Supt David O'Connor, president of the Association of Scottish Police Superintendents, welcomed the announcement.
But Real A9 Users spokesman Mike Burns said the cameras would not go far enough.
He said: "All A9 users get frustrated and accidents are caused primarily by the current poor maintenance, fatigue, lack of overtaking opportunities, risky overtaking, slow moving vehicles, constant roadworks and general lack of significant, marked police patrols.
"Average speed cameras do nothing to address this and will simply slow down the A9."
Other measures called for in the 20-point plan include barriers to stop overtaking at the end of dual lanes and signs showing journey times.
The Scottish government is committed to a £3bn project to upgrade 80 miles (128.7km) of single carriageway between Perth and Inverness to dual carriageway.
The project is not expected to be completed until 2025.