Cromarty's old burgh uncovered by winter storms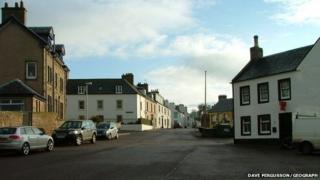 Clues to what life was like in a Highland town in the 13th Century are being recovered by archaeologists.
They were first alerted to fragments of pottery and animal bones at Cromarty when part of a coastal foot path was washed away in a storm, last December.
Archaeologists believe the oldest of the buried finds date from the 13th Century when the area became a royal burgh.
But Cromarty also has a myth about an older town that was lost to the sea.
As a royal burgh Cromarty was protected by a castle and locals were allowed to trade in goods.
The storm surge last December battered coastal communities along the Moray and Cromarty firth coasts.
Old town
It caused millions of pounds of damage, but also revealed clues to Cromarty's past.
Steven Birth, the archaeological dig's site director, told BBC Alba: "In the erosion we could see there was a sequence of archaeological deposits.
"The material coming out of there was dating from the post medieval period and possibly right up to the 19th Century.
"There were lots of middens with fish bone and animal bone. Very soon it was apparent that we were right on the edge of the core of the medieval burgh."
According to Cromarty Community Council's website, there are tales of a old town being lost to the sea.