Islands fuel discount considered for Northern Ireland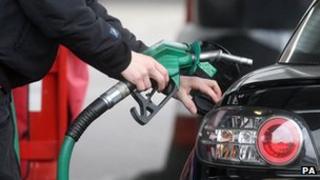 A fuel discount that applies to the Scottish islands and the Isles of Scilly could be extended to other remote and rural parts of the UK, including Northern Ireland.
The scheme, which was introduced last year, gives motorists a maximum 5p per litre reduction in duty.
The UK government is now looking at petrol and diesel prices in 35 areas in the four nations.
The European Commission (EC) would have to approve any change to the scheme.
Introduced in March 2012, the discount currently applies to the Hebrides, Northern Isles, islands in the Clyde and the Isles of Scilly.
Fuel prices have been sought from almost 1,500 retailers ahead of making an application to the EC in the autumn for an extension to the scheme.
In Northern Ireland, businesses in the following areas have been asked for information:
Antrim, Armagh, Ballymena, Ballymoney, Banbridge, Coleraine, Cookston, Down, Dungannon, Fermanagh, Larne, Limavady, Magherafelt, Moyle, Newry and Mourne, Omagh, Strabane.
Chief Secretary to the Treasury Danny Alexander said the scheme aimed to keep fuel prices down where costs of transporting petrol and diesel were high.
"Northern Ireland obviously has quite a number of sparsely populated areas and what we're seeking today is to gather information from fuel retailers and others about the price level in those areas," he said.
"We want to see whether a case can be made, but the thing to understand is that this case has to be made to the European Commission because they have to approve any differential tax rates that apply in a member state on fuel under the energy products directive."
Mr Alexander said the government would only be able to apply it to areas where the price of fuel was consistently above the lowest level in those islands that already had the discount.
"What we're looking for are the extremes, we know that the remote islands are the extremes of fuel prices within the UK," he said.
"You're looking at prices above 150p a litre or more in some of the most remote places. And we're looking for examples in Northern Ireland that are at that sort of level.
"If there are particular locations where prices are very high and clearly in those places a car is a necessity not a luxury. It's something everybody needs for their daily lives so we want to help."
Mr Alexander said the scheme would benefit local fuel retailers as well as consumers.
"It will help by lowering the price, it will help consumers in their area, that must be a good thing, it will help I hope to make those retailers to be a bit more competitive against the competition they're facing," he added.
"Small retailers are a very important part of rural communities and we've seen a lot of closures of those sorts of retailers over the last few decades and I hope that we might help make some of those businesses a wee bit more sustainable."