Grouse laying earlier due to warmer springs, says GWCT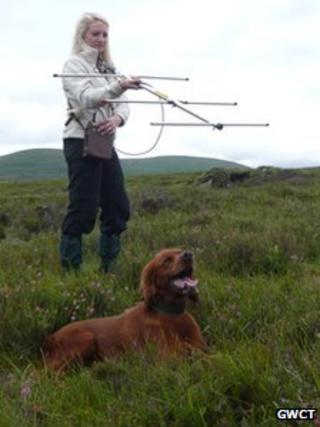 Red grouse are laying eggs earlier in the season in response to warmer springs, according to the Game and Wildlife Conservation Trust (GWCT).
A 20-year research project by the organisation has been published in ornithological journal Ibis.
The study involved the monitoring of radio-tagged red grouse hens in Strathspey in the Cairngorms.
GWCT said the research suggested dates when eggs were laid have advanced by 0.5 days per year.
Rising April temperatures have been a major influence on egg laying, the trust said.
Warmer springs provide more plant food for the hens to get into good condition for breeding.
However GWCT added that higher temperatures in May and August may not favour important food sources for the chicks.
Dr Kathy Fletcher, head of GWCT's Scottish upland research, said: "A warm May was likely to drive an earlier emergence of craneflies, or daddy-longlegs, a key chick food.
"An early fly hatch means the grouse chicks hatch too late to take advantage of the abundant food source.
"Warmer Augusts result in fewer craneflies surviving to produce eggs for the following year."
She added: "However, birds that laid earlier tended to have larger clutches and better chick survival. So far grouse numbers have not been affected by the temperature range reported in this study."