Scotland's gamekeepers to help combat mussel poaching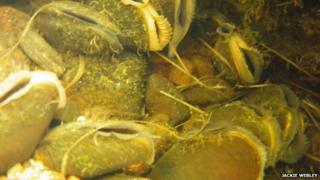 Gamekeepers have offered their help in preventing the poaching of Scottish freshwater pearl mussels.
The mussels are are an endangered species and protected under the Wildlife and Countryside Act.
Two years ago, they joined giant pandas and Javan rhinos on a list of 365 of the world's most endangered species.
The Scottish Gamekeepers' Association (SGA) has signed an agreement with the National Wildlife Crime Unit (NWCU) to help fight poaching.
Poachers target the mussels, often in rivers in remote areas, in the hope of harvesting white pearls.
SGA chairman Alex Hogg said gamekeepers and ghillies will be encouraged to alert police to suspicious activity.
Charlie Everitt, investigative support officer of NWCU, said it was an important agreement.
He said: "Pearl fishing can happen in some of the remotest parts of Scotland and the only way the police may ever hear about it is if members of the public working in those locations inform them.
"This is why we are appealing to ghillies and gamekeepers who work on the land around rivers containing freshwater pearl mussels to please contact the National Wildlife Crime Unit if they see any suspicious activity - however small or insignificant - that may be related to illegal pearl fishing."
It is the latest initiative aimed at giving the mussels greater protection.
Pearls in Peril is a UK wide project to safeguard the future of the species.
The project is funded in part through the European Commission LIFE Nature programme and by 14 organisations across the UK.
As part of the project a river watch scheme has been launched at locations across Scotland.
Rivers and Fisheries Trusts Scotland and the River Ness and Beauly Fisheries Trust are involved in the watch.
River watchers have been tasked with alerting the authorities to poaching.