Poachers' net off Lewis kills porpoise and salmon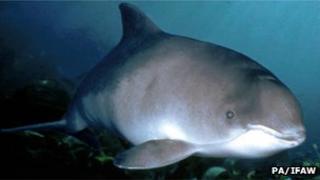 A porpoise and salmon have died after becoming entangled in an illegal net set up off the west coast of Lewis.
Police Scotland said officers were alerted to the 125m (410ft) long and 4m (13ft) wide gill net by the public.
Benbecula-based wildlife crime officer Adrian Kay said the porpoise would have died a slow and painful death.
The police officer said the net had been attached to a number of floats, one of which was white and was marked L1 LADY.
PC Kay added: "The poachers who set this net do not appear to have checked it regularly, allowing this salmon and porpoise to die trapped within it."
Scottish Natural Heritage said the nets, traditionally used to catch salmon, were illegal because of the threat they posed to porpoises, dolphins and basking sharks.
Area manager David Maclennan said: "Cetacean species - dolphins and porpoises - are a major wildlife draw for Scotland, and salmon are worth millions to the Scottish economy.
"We owe it to all marine species to protect them from such indiscriminate practices."