RSPB Scotland in bid to raise far north bog's standard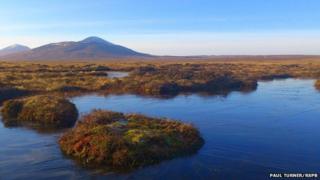 RSPB Scotland is finalising plans to restore vast tracts of peat bog in the Flow Country of Caithness and Sutherland.
The conservation charity hopes to secure millions of pounds in Lottery funding for the work at its Forsinard reserve.
Its plans include the removal of commercial forestry plantations from the bog land.
The Flow Country supports rare plant, insect and bird life.
Rare bird species include common scoter ducks.
Dr Pete Mayhew, who is leading the project, said the Flow Country was one of the biggest bogs in the world.
He said: "It's enormous. It is about half a million hectares of bog land.
"It looks a bit flat and dreary, but when you get down into it you find a whole range of plants not found anywhere else, insects that are not found anywhere else and the birds are superb as well."
Dr Mayhew said the world's peat bogs also stored more carbon than tropical forests.
Last year, 10 councillors failed in a bid to stop £10,000 of Highland Council funds going to an RSPB Scotland peatland restoration project at Forsinard.
The group of councillors had sought to block the grant from the local authority's Landfill Community Fund.
However, at a meeting of the full council a vote confirmed the award of the funding by 40 votes to 27.
The money was to help cover the cost of blocking up open drains in parts of the reserve.
The councillors argued that the drains should block naturally over time.
RSPB Scotland said the ditches dated back to the 1950s and had not blocked up or stopped draining water from peat over the past 60 years.