NHS Highland warning on horsefly bites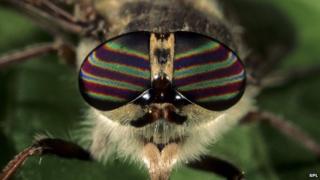 Hot weather has raised the risk of people being bitten by horseflies, NHS Highland has warned.
Also known as clegs, they can inflict a painful bite that cuts skin rather than piercing it. The bites can take a long time to heal and become infected.
Mary Morton, of NHS Highland, said the flies seemed to be "particularly active" in its area which includes the Highlands and Argyll.
She said some people can have an allergic reaction to cleg bites.
Usually warnings about biting insects at this time of year involve midges and ticks.
Earlier this month, the Mountaineering Council of Scotland sought to raise awareness about the two pests.
Ms Morton, head of community pharmaceutical services for NHS Highland, said: "A cleg bite can lead to the formation of a weal around the area of a bite, but it can also cause a rash of these weals, something like a nettle rash.
"However, some people can also experience dizziness, weakness, wheezing or something called angio-oedema - itchy, pink or red swellings around the eyes or lips."
She said pharmacies were able to give advice on insect repellents and urged people to contact their GP if they thought a bite had become infected.