Mingary Castle arrowhead find intrigues experts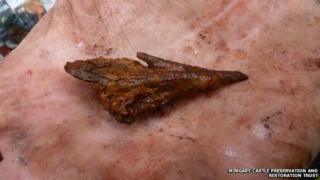 An iron arrowhead uncovered during a dig at a ruined castle could be a clue to the site's violent past.
Archaeologists and volunteers have been carrying out an excavation at Mingary Castle near Kilchoan, on the Ardnamurchan peninsula.
The arrowhead was found by Dave Henderson and later washed and cleaned by Edinburgh-based Addyman Archaeology.
Archaeologists said it could be a hunting arrow, but also suggested it may have been used in combat.
Mingary Castle dates back to the 13th Century, but the site on which it was built may have first been occupied by the Vikings in earlier times.
The site is believed to have close links to Somerled, a 12th Century leader of mixed Norse and Gaelic descent who commanded islands from the Butt of Lewis to the Isle of Man.
He secured the territories by leading a fleet of 50 ships into a battle against Godfrey the Black, a Norse king who ruled many of the islands.
Naval battle
Mingary, which overlooks the Sound of Mull, was also important to the Lords of the Isles.
They ruled islands of the Inner and Outer Hebrides as well as large parts of the west coast of Scotland as a state separate from the rest of the country.
The lords included Angus Og Macdonald who waged a civil war against his father John in the 1480s.
The rival forces of father and son fought a naval battle at Bloody Bay on Mull. The clan lost half its fleet in the conflict.
But archaeologists said the arrowhead could have been used in attacks in later centuries.
Ross Cameron of Addyman Archaeology, said: "The arrowhead could easily be in use in the 17th century at the time of the Wars of the Three Kingdoms.
"It could also be a hunting arrowhead, unrelated to warfare, although it is tempting to think otherwise.
"None of us on site have ever found an iron arrowhead before, so we are all tremendously excited about it."
Inhabited until the mid-19th Century, the condition of the castle has since deteriorated.
Mingary Castle Preservation and Restoration Trust was set up this year to halt its collapse.
The charity aims to have the building fully restored to how it looked in Medieval times by the end of 2014.