Average speed cameras for A9 from Dunblane to Inverness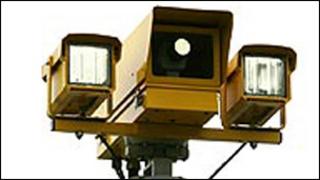 An average speed camera system should be in place on the A9 between Dunblane and Inverness by next summer, the Scottish government has said.
Transport Minister Keith Brown said it was among safety measures to be introduced on the road.
The average speed camera system will be the second in Scotland.
The first was installed on the A77 in Ayrshire between Bogend Toll and Ardwell Bay in 2005. It has been credited with improving safety.
Transport Scotland said it had delivered a 46% reduction in fatal accidents and 35% cut in serious accidents.
The cameras read the number plates of passing vehicles and measure the time it takes for them to pass from point A to point B, measuring average speed.
Mr Brown said it was "extremely important" that the A9 was as safe as possible.
He said: "The A9 Safety Group has recommended that an average speed camera system is introduced to help cut down on the number of accidents and Transport Scotland will now take this forward.
"While the Scottish government believes that dualling will be the long-term solution to the safety issues on the A9 - we are the first administration committed to making the road dual carriageway all the way from Perth to Inverness a reality - we also want to make the immediate improvements that will bring positive changes to driver behaviour.
"Average speed cameras systems have a proven track record of reducing casualties and excessive speed and their high visibility leads to better compliance of the speed limit.
"We hope to see the first of the cameras introduced early next year and expect the system to be fully operational in the summer of 2014."
Supt Iain Murray, of Police Scotland, said any initiative that made roads safer was welcome.
He said: "There is no doubt that this announcement will help to reduce the concerns of a great many people who have made their concerns about safety on the road known in recent days however it is clear that the introduction of the system will take some time.
"I would therefore wish to reassure all road users that in the meantime the Trunk Roads Patrol Group will continue to provide a higher level of patrols on the A9, as well as other strategic routes in Scotland, to influence road user behaviour, encourage better driving and enforce legislation when required."
'Real potential'
Michael McDonnell, director of Road Safety Scotland, added: "The A9 Safety Group's objective is to positively influence driver behaviours in a way that helps reduce road casualty figures.
"It has been demonstrated in other locations that average speed cameras reduce the number of people being killed and seriously injured and this offers real potential to improve safety on the A9 ahead of the dualling programme."
Earlier this month a senior police officer said higher priority should be given to improving the safety of the A9.
Ch Supt David O'Connor made his call in an open letter to the Scottish government.
It followed a two-vehicle fatal accident in which a mother and daughter from Edinburgh and a passenger in another car lost their lives.
The police officer, who is president of the Association of Scottish Police Superintendents (ASPS), said his comments were not intended to suggest any specific link to the recent tragic incident, as he was not aware of the detail.
Following the latest announcement, Ch Supt O'Connor said: "Driver behaviour is one part of the problem and the introduction of average speed cameras should help drivers focus on this aspect of driving.
"This is good news and another step towards making the A9 safer and I welcome the Scottish government multi-agency approach to addressing this serious problem."
Dave Thompson, SNP MSP for Skye, Lochaber and Badenoch, said the introduction of cameras was a welcome move.
But he added: "While the A9 remains a single carriageway in many sections, an unintended consequence of this move may be to increase frustration and this could even lead to risky overtaking.
"Trucks and lorries are limited to 40mph on the single carriageway sections of the A9, and an average speed camera system will enforce this limit on them.
"This will make it difficult for drivers of other vehicles, who are not limited to 40mph, to pass these slower moving trucks and lorries."
Mr Thompson added: "The impact of these speed cameras will be a big boost to safety on the A9, but it must be closely monitored to ensure that any unintended impacts on road safety are dealt with."