Scottish ministers to look into extra powers for isles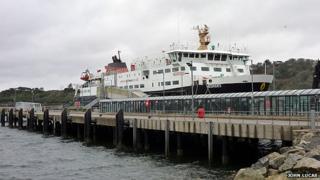 The Scottish government is to set up a ministerial working group to look at extra powers for Scotland's three island councils.
Shetland, Orkney and Comhairle nan Eilean Siar are campaigning for more control over island resources.
The Scottish cabinet discussed the matter at a meeting in Shetland.
Council leaders said they were delighted that the government was considering the local authorities' campaign, Our Islands - Our Future.
It calls for extra powers whatever the result of next year's vote in the independence referendum.
Finance Secretary John Swinney confirmed that a working group would be established.
He said: "Scotland's island communities are an invaluable source of energy, creativity and talent.
"They are made up of people with rich and diverse backgrounds who all contribute to making Scotland as a nation flourish.
"One of the great advantages of the independence debate is the opportunity to reflect on the sort of Scotland we wish to see."
'Best future'
Mr Swinney added: "Shetland, Orkney and Comhairle nan Eilean Siar have already taken a lead in doing that."
The working group forms part of what has been called the Lerwick Declaration.
The declaration will be set out in a speech by First Minister Alex Salmond.
In the speech he will say: "We believe that the people who live and work in Scotland are best placed to make decisions about our future - the essence of self-determination, therefore we support subsidiarity and local decision-making.
"It follows, therefore, that any government committed to that policy should listen to the views expressed across all of Scotland - as we are doing here in Lerwick and as we are doing in supporting greater community land ownership and the forthcoming Community Empowerment and Renewal Bill."
The local authorities have welcomed the move.
Gary Robinson, political leader of Shetland Islands Council, said: "While our campaign is politically neutral, we certainly welcome the opportunity to engage with the Scottish government and are very pleased that a working group will be set up and that our campaign is being taken seriously.
"We need to ensure that, whatever the outcome of the referendum, we have secured the very best future for the three islands and their communities."
Steven Heddle, convener of Orkney Islands Council, said: "From the start we've sought early engagement with the government on the important issues that underpin Our Islands - Our Future.
"These issues are of fundamental importance for our communities, so having the opportunity to raise and discuss them at ministerial level is a very positive step forward for the campaign."
Financial powers
Ahead of the cabinet meeting, Comhairle nan Eilean Siar's leader Angus Campbell said ministers would be asked what powers they would be prepared to hand over to the local authorities.
He said: "The important ones for us are control over the seabed, the future of marine renewables, fishing and transport."
Mr Campbell said that further into the future it was hoped the councils could gain more financial powers.
Earlier this month, the three authorities said they had sought the views of Scottish and UK political leaders on their campaign.
First Minister Alex Salmond, Prime Minister David Cameron, Deputy Prime Minister Nick Clegg and Labour leader Ed Miliband have been approached.
Responses from the leaders will be discussed at a conference in Orkney in September.