Inverness Airport 'missing out on business travellers'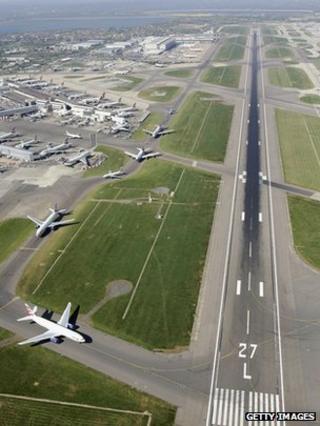 More than 50,000 passengers a year are being lost to Inverness Airport because it has no link with Heathrow, the results of new research suggests.
The survey of business travellers was carried out following concerns about Inverness's Gatwick link.
Inverness has not had flights to and from Heathrow since the late 1990s.
Businesses said they flew from Aberdeen, Glasgow or Edinburgh to Heathrow for trips to London and south east of England.
The Scottish Council for Development and Industry (SCDI) and Inverness Chamber of Commerce commissioned the research.
More than 290 businesses in the Highlands and Islands were surveyed.
The results suggested that more than 16% of business trips between the region and London and south east England were made through airports other than Inverness.
The SCDI and chamber said this meant that more than 50,000 passengers a year were not using Inverness.
The results also showed many were choosing to travel to Aberdeen, Glasgow or Edinburgh for flights direct to Heathrow rather than fly from Inverness to Gatwick and then travel around London to Heathrow for further journeys.
However, respondents also said links with Gatwick remained crucial.
SCDI's Highlands and Islands manager Fraser Grieve said: "It is no surprise that businesses across the region feel so strongly about the importance of our air connections and that Gatwick and Heathrow are seen as the only airports that provide the connectivity needed to and through London."
Economic needs
He added: "The scare following the announcement that Flybe was to sell its slots at Gatwick has rightly brought organisations together to look at how best to address this issue in future and we are grateful that Easyjet are able to provide a service which meets passenger demand and the key commuter service to London."
Inverness Chamber of Commerce chief executive Stewart Nicol added: "The chamber has long understood the challenges that businesses here face in reaching customers both around the UK and the world, and that is why it is so vital that we have air services that meet the economic needs of the region."
Flybe announced earlier this year that it was selling its Gatwick slots to Easyjet in a £20m deal threatening air links with the Highlands.
Last month, Easyjet said it would introduce new flights from Inverness to London, replacing those lost by Flybe pulling out of its Gatwick route.
Easyjet, which already operates a London-Inverness service, said it was increasing its capacity between Inverness and Gatwick by almost 30%.
The new flights will start next year.
Crucially the new flights will include an early morning departure to Gatwick and an evening arrival from the London airport.
The new services are part of a new five-year deal between the airline and Inverness Airport.