Karen Gillan unveils new look for Guardians of the Galaxy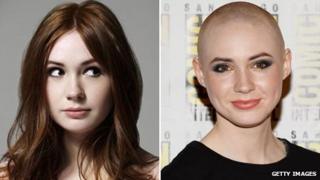 Scots actress Karen Gillan has unveiled a new look for her latest film.
The former BBC Doctor Who assistant pulled off a red wig to reveal a shaven head at Comic-Con International in San Diego.
The stunt came during a presentation on Marvel's upcoming movie Guardians of the Galaxy, which will also star Zoe Saldana and Benicio Del Toro.
Gillan, from Inverness, will play a ruthless space pirate called Nebula. The film will be released next year.
Comic-Con is one of the world's biggest celebrations of comic books and movies based on them.
English actors Henry Cavill, who played Superman in Man of Steel, and Spider-Man actor Andrew Garfield also appeared at the event.
Shooting on Guardians of the Galaxy, about a group of aliens tasked with the protection of Earth in the 31st Century, is due to begin this month.
The film forms part of Marvel's so-called "Phase 2" movement, following an initial raft of superhero movies that culminated with 2012 blockbuster Avengers Assemble.
Star-Lord, Gamora and Drax the Destroyer are among the characters who will feature in James Gunn's movie.
Gillan played Amy Pond opposite Matt Smith's Doctor Who.
The actress has also been given the lead part in a film about a haunted mirror.
In the horror film, Oculus, she will play Kaylie whose brother is convicted of murdering their parents.
Kaylie believes an antique looking glass was responsible.