Female cyclist dies in crash on road near Drumnadrochit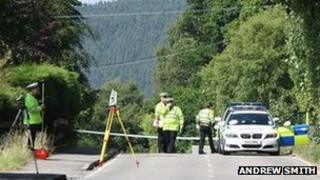 A female cyclist in her 50s has died following a collision with a car in Glen Urquhart near Drumnadrochit.
It happened on the A831 near the A833 junction at Milton at about 08:41.
Diversions were put in place and the road was closed for several hours.
The accident happened as campaigners placed two "ghost bikes" outside the Scottish Parliament.
They called for more money to be invested in cycle safety.
The bikes painted entirely in white represent the deaths of two cyclists last week.
A plaque also details the number of cyclists killed in Scotland since 2009.
Ghost bikes have been used across the world over the past 10 years to raise awareness of cycle safety - usually at the spot where a cyclist was killed.
The death of the cyclist near Drumnadrochit is the ninth this year. This equals the total number killed in the whole of 2012.
Police have appealed for witnesses to the latest accident.
A spokesman said: "Sadly the female cyclist died at the scene as a result of her injuries."
Police have appealed for anyone with information to contact them.