Rare black-throated diver shot near Achnasheen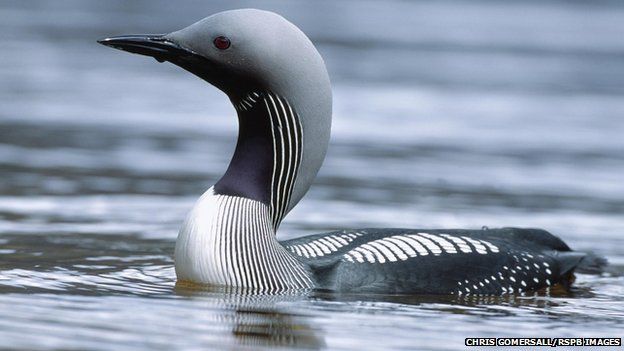 A rare black-throated diver found dead near the shores of a loch was shot, a post-mortem examination has revealed.
Scottish government fisheries biologist Jim Raffell made the discovery in mid-April at Loch Gowan, near Achnasheen, in Wester Ross.
Tests by Scottish Agricultural College vets confirmed it was shot by a "high velocity projectile".
Black-throated divers are one of the UK's rarest birds and only breed in the north west Highlands.
Last week, RSPB Scotland said the breeding population was rising.
A spokesman for the charity said: "It is truly shocking that one of these birds has been deliberately targeted, with a complete disregard for both the law and the rarity of this species."
Mr Raffell, a fisheries biologist with the Scottish government, added: "To find a dead black-throated diver is very sad, but to then be informed that that it had been shot caused me much upset and made me very angry.
"How any person could deliberately shoot such a beautiful, enigmatic and uncontroversial bird is outrageous. I hope that by raising awareness of this crime, it will never be repeated."
Last week, RSPB Scotland said artificial rafts covered in vegetation were helping to raise the breeding population.
The birds nest close to water which makes them vulnerable to flooding.
Since tethered rafts were introduced to lochs in the late 1980s, RSPB Scotland said numbers of breeding pairs had risen from 180 to 240 last year.
Related Internet Links
The BBC is not responsible for the content of external sites.