AccuNostics in Forres plans to hire LifeScan workers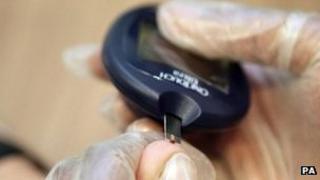 A Forres-based manufacturer of medical devices has revealed a plan to provide work for staff facing redundancy at a life sciences business in Inverness.
LifeScan Scotland announced on Thursday that that up to 40 of its 1,100 employees at a factory in the city could lose their jobs.
AccuNostics said it could offer posts to between 10 and 20 former LifeScan staff.
The firm's Giles Hamilton said the move would form part of its expansion plans.
LifeScan Scotland, a Johnson & Johnson-owned company, is one of the biggest private employers in the Highlands.
It manufactures blood glucose monitoring devices.
Mr Hamilton said LifeScan was a "fantastic business" that had "bounced back from setbacks" in the past.
He said AccuNostics was expanding its operations and was keen to take on workers facing job losses.
Mr Hamilton said: "Of the jobs that are being lost we are expected to be able to hire somewhere between 10 and 20 staff in the next 12 to 18 months."
'Extremely disappointing'
Highlands and Islands Enterprise, which provided £2.8m of funding to LifeScan last year, described news of planned job cuts as "extremely disappointing for those affected".
Danny Alexander, MP for Inverness, Nairn, Badenoch and Strathspey, said he hoped workers would receive support in finding new employment.
He said: "While this is extremely disappointing news I understand it is the result of challenges facing LifeScan caused by changes in their worldwide market.
"My sympathy is with those staff and their families who will be directly affected by these job losses and what we must do now is ensure all agencies work together to help both them and the company through this period."