Hopes The Killing and Borgen inspire Gaelic TV drama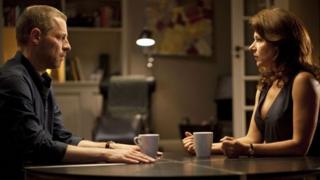 Danish dramas could inspire potential makers of Gaelic-language dramas, a BBC Alba boss has said.
The latest annual report for the Gaelic channel run by MG Alba in partnership with the BBC said a lack of original drama will be tackled.
MG Alba's chairwoman Maggie Cunningham said the global success of The Killing and Borgen was an inspiration.
The report also said 2012-13 had been BBC Alba's "best ever year" for audience figures since it launched.
The channel, which started in 2008, has no original drama, needs more children's programmes and runs too many repeats, according to the annual report.
MG Alba's Ms Cunningham and chief executive Donald Campbell said efforts would be made to address these areas.
Ms Cunningham said: "We are committed to developing children's programming and multi-media resources and these areas stand side by side with drama as priorities for the channel.
"We have been inspired by and admire the global success achieved by Danish dramas Borgen and The Killing, and, looking ahead, we will continue to share experiences with our fellow minority language broadcasters such as S4C and TG4 to inspire our commissioning and funding strategies.
"While indigenous language crime programmes have been a success we will be looking at all options for developing drama for the channel."
Borgen is a political drama with actress Birgitte Nyborg playing a fictional Danish prime minister. Fans include Scotland's Deputy First Minister Nicola Sturgeon.
Crime drama The Killing is set in Copenhagen and stars Sofie Grabol as detective Sarah Lund.
'Great pride'
According to the newly-published report, BBC Alba's audience figures have increased.
During 2012-13 its weekly reach Scotland-wide grew from 10.6% - 436,000 viewers - to 15.6% or 637,000-a-week.
Interest from Gaelic-speaking communities also rose and an average reach of 79% in the fourth quarter of the year was the highest since 2008.
New technology such as tablets helped to push up viewing figures.
The report said it had been a record year for iPlayer viewing of BBC Alba content with 4.1 million views of programmes. This was almost double the amount of viewing received in 2011-12.
Increasingly people, especially younger viewers, were viewing the online content on mobile devices rather than PCs.
Ms Cunningham said: "BBC Alba has been an undisputed success since it started broadcasting five years ago in September 2008.
"The channel can take great pride in its achievements and we must ensure that this progress continues."