Aye, robot: Scotland's rise of the machines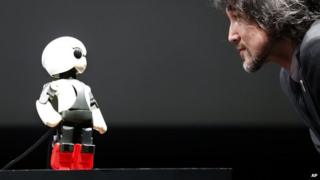 Robots are to be placed into the homes of people with dementia as part of a pilot on the Western Isles, but it is just one of many uses machines are being put to in Scotland amid a wider debate on robotics.
NHS Western Isles is the first health board in Scotland to try out Giraff.
The 1.5m (4ft 11in) tall, wheeled robots have a TV screen instead of a head.
A relative or carer can call up the Giraff with a computer from any location. Their face will appear on the screen allowing them to chat to the other person.
The operator can also drive the robot around the house to check that medication is being taken and that food is being eaten.
Size and appearance of robots has been a matter of some debate among designers and engineers, as reported in BBC online's Magazine in March.
It told how in 1970, the Japanese roboticist Masahiro Mori speculated that the more lifelike robots become, the more human beings feel familiarity and empathy with them - but that a robot too similar to a human provokes feelings of revulsion.
Mori called this sudden dip in human beings' comfort levels the "uncanny valley".
Child-sized robots are also thought to be less threatening than a large machine.
Magazine also told how an EU-wide survey last year found that although most Europeans have a positive view of robots, they feel they should know their place.
Eighty-eight per cent of respondents agreed with the statement that robots are "necessary as they can do jobs that are too hard or dangerous for people", such as space exploration, warfare and manufacturing.
But 60% thought that robots had no place in the care of children, elderly people and those with disabilities.
However, companies in Japan and South Korea are developing childcare robots. Korea has also trialled robot prison guards.
Healthcare has emerged as a key area for the use of robots in Scotland.
Three years ago, the new £300m Forth Valley Royal Hospital in Larbert, Stirlingshire, became the first in the UK to use a fleet of robots to carry out day-to-day tasks.
The robots carry clinical waste, deliver food, clean the operating theatre and dispense drugs.
The machines have their own dedicated network of corridors underneath the hospital.
Doctors and nurses training at the same hospital use robot patients to hone their skills.
A family of seven special mannequins include Stan, who can respond to anaesthetic gases.
Another robot simulator, Reg, has a heartbeat, can give blood and describe his symptoms.
There is also a baby, two children and a pregnant woman robot.
Dounreay, an experimental nuclear power plant in Caithness, has also been at the forefront in the use of robotics.
The machines are being designed for, or have already been deployed in, sites too dangerous for humans to work in.
A remotely-operated pipe crawler, a device described by its operators as a hi-tech worm, was used to probe the condition of a pipeline once used to discharge radioactive effluent from the site.
The £100,000 machine beamed back images from inside the underground pipeline to the sea which was in use from 1957 to 1992.
In 2009 it spent five days in the system, sending back video images and radioactivity readings.
An underwater robot has recovered hundreds of radioactive particles from the seabed off Dounreay.
Other proposed machines include the 75-tonne Reactorsaurus.
It was put into development in 2009 to tear out the insides of the Prototype Fast Reactor with 16m-long arms fitted with diamond wire and disks, hydraulic shears, oxy/propane and plasma cutting gear.
Designers added six radiation-tolerant cameras relay images and sound back to the control room.
Meanwhile, a robotic crane is to be used to remove radioactive waste from a 65.4m pit dubbed the Shaft.