Inverness West Link: Moscow State Circus rolls into row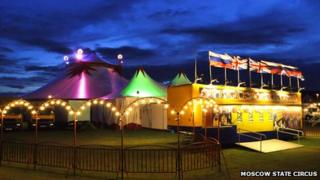 A circus has said that this year's visit to Inverness could be its last because it believes a planned new road threatens its favoured site.
The Moscow State Circus uses the city's Canal Pitches.
One of the park's four sports pitches will be lost if Highland Council's proposed new West Link is constructed.
Inverness councillor Ian Brown told BBC Radio Scotland that even after the loss of a pitch the site would still be big enough to host circuses.
Ahead of the circus's arrival this weekend, director Paul Archer said Inverness had become a regular stop on its tour of Scotland.
He said: "As a bypass is due to be built straight though the park it is looking increasing likely that no circuses will be able to visit the site again and could force the circus out of the city all together."
City councillor Ian Brown said there was no need for the circus to be worried.
He said: "I think personally they are showmen and they see this as a good marketing opportunity to sell tickets.
"There is plenty of room for the circus and they are welcome to come this year and every year they want to come."
Green spaces
The West Link forms part of Highland Council's plan to spend almost £1bn on major construction projects over the next 10 years.
Councillors voted overwhelmingly in favour of pushing ahead with a planned route for the controversial new road.
During May's meeting of the full council, councillors voted 66 to six against carrying out a review of the project.
The preferred route known as Option Six is opposed by a public campaign.
A protest was held outside Highland Council's headquarters as councillors arrived for the meeting.
The road has been proposed as a solution to city centre congestion and as a way of easing travel across Inverness from the A96 and A82 trunk roads.
Opponents to Option Six say it will lead to the loss of public green spaces.
The local authority has referred itself to a public sector watchdog over its handling of the West Link.
Audit Scotland has been invited to investigate allegations that the council's process for selecting the road's route has not been transparent.