What to do with the world's unwanted wind turbines?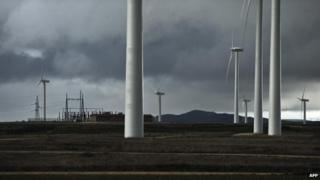 Newly-published research has examined what should be done with wind turbines when they become outdated. Some of the solutions are unusual.
The study was commissioned by Scottish Natural Heritage, which is expected to issue new guidance on dealing with old turbines later this year.
The research looked at the decommissioning of the machines, the restoration of wind farm sites and also how turbines, towers and the various components can be recycled.
Dealing with the massive devices when they are replaced by more efficient ones is expected to become an increasingly weighty issue.
The SNH-commissioned report quotes a forecast that by 2034 there will be a need to recycle about 225,000 tonnes of rotor blade material every year worldwide.
Several ways of recycling past-it machinery are mentioned in the report.
Community wind farms
Small community-owned renewable energy schemes could be in the market for second hand turbines.
Isle of Gigha Heritage Trust bought three used Vestas machines in 2004.
The turbines - dubbed the Dancing Ladies - generate almost all the electricity the islanders need and an annual profit of £93,500 for Gigha Renewable Energy, the firm owned by the residents that operates the small wind farm.
Eastern Europe and Latin America
Reconditioned second hand turbines are in demand worldwide.
The SNH report said a two-year waiting list for new machines was a factor driving up sales of used turbines.
They also cost 40% less than devices fresh off the production line.
Eastern Europe, Latin America and Asia are among the biggest buyers.
The report said more than 5,000 second-hand turbines were expected to go on sale in Europe this year.
Adventure playgrounds
In Holland parts of towers and even large blades have been transformed into play equipment for a children's park.
The researchers described this reuse as "innovative", but added that how much decommissioned gear could be used in this way was limited.
Fuel
The mixture of materials used to make the blades, they include plastics, resins and balsa wood, are hard to separate and then put to other uses, according to the report.
Germany is home to the world's only industrial-scale factory for reprocessing blades.
Various saws are used to chop them up into chunks which are then shredded and then hammered into 5cm-long fragments.
These are then mixed with other wet waste material and used as fuel at a cement-making factory.
The report said the reprocessing firm deals with up to 500 tonnes of unwanted turbine blades a month.