Highland Council unveils 10-year plan worth almost £1bn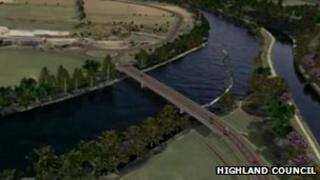 Highland Council has outlined plans to spend almost £1bn on major construction projects over the next 10 years.
The schemes include new schools, play areas, roads, flood prevention and sports facilities.
The local authority's leadership has set out the proposals ahead of council meeting next Thursday.
Independent councillor Caroline Wilson said there was nothing new in the plans and described the announcement as "spin."
At the full council, councillors will be asked to vote on a firm five-year programme running to £470m and also an indicative five-year plan of similar scale.
Council leaders said the "ambitious" plans could create work for up to 500 people in the construction industry.
To help finance the programme of works, the local authority said it would increase its borrowing at a cost of £2.5m per year.
The projects include building a new Portree Gaelic Medium Primary School, Inverness Royal Academy and a new high school and two primary schools in Wick.
Also proposed is a sports facility at Dornoch.
Funding is also to be directed at building the controversial Inverness West Link road and completing the River Ness flood prevention scheme.
'Very exciting'
Leader Drew Hendry said: "A key priority of this council is to support the creation of jobs to ensure the economic growth of the Highlands."
He added: "Over the second five year programme we would aim to maintain the momentum of spending.
"This is really very exciting news for the Highlands. It has the potential to transform our economy."
Depute leader David Alston said the programme was an "imaginative" use of finances over the next 10 years.
He added: "Capital expenditure on this level is a commitment to the future of the Highlands and an indication of the key role of local government is setting the direction for the region."
Leader of the opposition on the council, Caroline Wilson, said capital spending was always welcome but added that what had been set out was "spin".
She said: "There is nothing we would say is new and make the public go 'wow, this is a really good project'.
"Much of what has been put out today is spin on projects that for sometime have been agreed."