Sightings of birds in Scotland's hills sought by BTO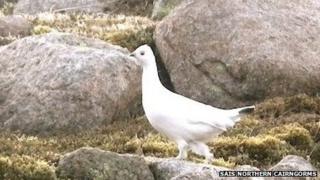 People working in and visiting Scotland's hills and mountains have been asked to note the birds they come across.
The British Trust for Ornithology project What's Up aims to improve knowledge of where birds species are.
The Mountaineering Council of Scotland has highlighted the appeal for information to its members.
Scotland's upland birds include black grouse, ptarmigans, golden eagles and peregrine falcons.
Rare sightings made so far this year include a snowy owl in the Cairngorms.
Wildlife enthusiast Lucy Dunn was ski touring with her partner when they spotted the bird of prey on 17 February.
Their sighting was reported on the nature website iSpot.
RSPB Scotland and the Scottish Wildlife Trust said snowy owls made rare appearances in Scotland. The birds are native to Arctic regions.
Ms Dunn and her partner were on their way back from Carn Etchachan and were heading towards Feith Buidhe, in the Northern Cairngorms, when they had their encounter.