Eigg toasts a clutch of milestones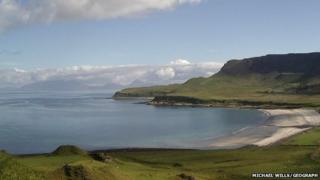 Islanders on Eigg are marking three milestones.
It is 16 years since the tiny island in the Small Isles was taken over by its residents in a community buy-out.
Five years ago, a renewable electricity system came online marking an end to islanders' heavy reliance on diesel generators.
John Chester, a Scottish Wildlife Trust ranger who moved to Eigg in 1986, has also had a book about the isles' birdlife published.
Since the buy-out in 1997, islanders have halted a decline in the population and brought about a transformation in how their homes are powered.
Residents now get more than 90% of their electricity from hydro, solar and wind schemes.
As well as micro hydro-electric schemes, the island also has wind turbines and photo-voltaic cells which harness the power of the sun.
In 2010, the Isle of Eigg Heritage Trust's work to develop sources of renewable power led to it being named overall UK winner in the Ashden Awards for Sustainable Energy.
Mr Chester's new book, The Birds of Eigg, draws on his records and others dating back to the 1700s.
It has been published with assistance from the Scottish Wildlife Trust and Scottish Ornithologists Club.
Heritage trust chairman John Hutchison said: "We have come a very long way since 1997.
"At that time we had an uncertain future and a dispirited, shrinking population.
"Now we have 40% increase in the population & a healthy school roll. The community continues to work enthusiastically in taking the island forwards."