Escaped prisoner worked in Ullapool fish factory while on run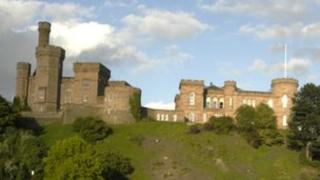 A convicted rapist slept rough near Inverness and worked at an Ullapool fish factory while on the run from an open prison, a court has heard.
Thomas McMurray was jailed for life at the Old Bailey in September 1997 for wounding with intent to cause grievous bodily harm to his victim.
Originally from Hamilton, he escaped from the prison in England last year.
McMurray was arrested in Inverness city centre on 6 October, the city's sheriff court has heard.
Sheriff David Sutherland jailed him for 12 months, backdated to 8 March 2013. He will return to England to serve the rest of his sentence.
McMurray was being held at an open prison in England in preparation for early release this year.
Inverness Sheriff Court heard that a problem arose with his release date and McMurray decided to escape by climbing through a window.
He headed to Scotland, first to Hamilton and then north to Inverness.
The 44-year-old was re-captured after a CCTV camera operator spotted him acting suspiciously on a public stairway in Inverness.
Inverness Sheriff Court heard that police were sent to the Raining Stairs to check him out. McMurray was agitated and nervous when they arrived.
The officers searched his rucksack and found a knife and a small quantity of cannabis. He then confessed to them that he was a wanted man in England.
'Laid low'
Defence agent Iain Innes described McMurray's weeks on the run when he appeared at court and admitted on indictment to illegally possessing a knife and 2.2 grams of cannabis.
Mr Innes said: "He was living rough in a tent outside Inverness but managed to get himself a job in a fish factory in Ullapool.
"He would be picked up each day and returned to Inverness where he laid low. He had a lock knife which he had for practical purposes because he was camping.
"He was not looking for trouble and he has told me he would have been stupid to do so."
Following his arrest, McMurray appeared at Lincoln Crown Court and was jailed for four months for absconding.
He returned to Inverness in March and pleaded guilty to the knife and drugs charges. Sentence was deferred.
Mr Innes said: "He won't be considered for parole for another five to seven years."