Brothers design new bike park in Carrbridge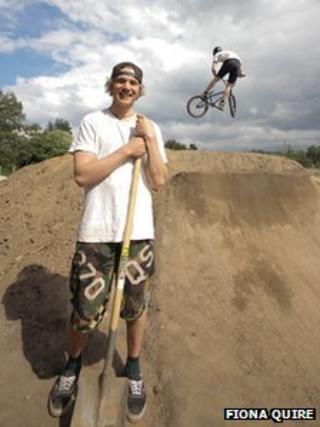 Two brothers designed a bike park that has been built in their home village in the Cairngorms National Park.
Kerr McWilliam, 22, with help from his 15-year-old brother Lewis, planned out and shaped the park in Carrbridge.
Mr McWilliam drew on his experience of parks in New Zealand where he works as an Alpine ski coach.
The project received funding from local development company Carrbridge Ahead Ltd and also £17,000 of Scottish government grant aid.
The bike park is located in the centre of the village next to the bowling green.
Mr McWilliam said: "We had a local contractor, Donald Powell, carry out all the ground works for us and then my younger brother Lewis and I shaped all the jumps.
"It really is a great place to improve bike skills, confidence and general fitness with jumps, berms and a skills area.
"The park is open to everyone and is being run on a membership scheme basis with forms available via schools and local bike shops."