Sunshine boosts ticket sales for RockNess at Loch Ness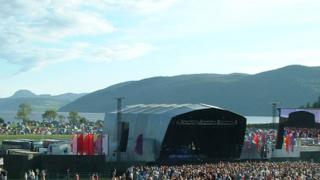 Ticket sales for RockNess have benefited from the weekend's warm and sunny weather.
Organisers said there had been a last minute "spike" in sales for Saturday and Sunday.
Thousands of people started arriving at Dores, near Loch Ness, on Friday. Madness and Plan B are among the acts which will close the annual festival later.
About 30,000 people were expected to attend over the three days.
Emergency services said that the atmosphere at the festival had been very positive and people were in good spirits.
Event commander Supt Stevie Mackay, from Police Scotland, said: "I am pleased to say that two nights have passed very safely and peacefully."
Supt Mackay said 85 positive drugs searches had uncovered cannabis, cocaine, ecstasy and MDMA.
"Two people were arrested in connection with dealing offences," he added.
Ambulance crews dealt with a few minor injuries including fractures, out of around 180 visits to the medical centre.