Flights to and from Skye could start in 2014 group says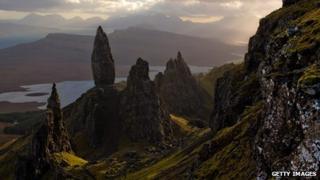 Commercial air services could return to Skye as early as next year, according to campaign group FlySkye.
Loganair flew out of the island's Highland Council-owned Ashaig Airfield, near Broadford, until 1988.
The council, transport body Hitrans, and Highlands and Islands Enterprise have been looking at the possibility of resuming flights.
Businessman Ian Blackford, a member of FlySkye, said doing so would bring an "enormous" economic boost.
Mr Blackford told BBC Scotland: "I think for tourism, for business, for leisure, for the people who live here we really need to be able to connect to the central belt and beyond.
"That is something that is very difficult to do today if you live on Skye. To get to Glasgow by car it takes you in excess of five hours."
Resuming commercial flights could require capital spending of between £9.7m and £15.3m, according to a feasibility study published in March.
However, investment of only about £2.3m to £2.8m would be needed if the length and width of the small runway met with the Civil Aviation Authority's approval.
Agreements would also have to be reached with the Department for Transport on security fencing, airline operators on hangars and the fire service on what facilities it would require to keep costs down.
Capital expenditure would rise if the airstrip had to meet certain standards on runways, such as length, width and requirements on runway end safety areas.
The Skye Air Services Feasibility Study looked at what would be needed before scheduled services could resume.