Ben More Assynt crash site cross removed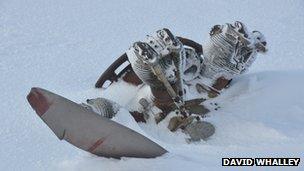 An old steel cross and cairn marking one of the most remote war graves in the UK has been removed in preparation for a new memorial.
In April 1941 the aircraft carrying six airmen from Scotland, England and South Africa crashed on Ben More Assynt in the North West Highlands.
It took almost a month for their bodies to be found.
The new memorial will be a granite block inscribed with the airmen's names.
Military personnel, staff from RAF Lossiemouth in Moray and volunteers have all been preparing the site for the installation of the new memorial.
The old memorial inscription is now in the church at Inchnadampth on a smaller memorial.
The new plaque will tell the story of the Anson Crash in Assynt and is to be made by the Commonwealth War Graves Commission.
Related Internet Links
The BBC is not responsible for the content of external sites.