Chick arrives at Loch Garten osprey centre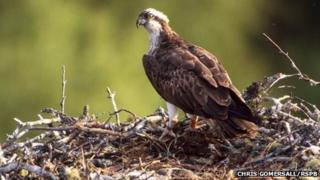 The first osprey chick of the season has been hatched at the RSPB's Loch Garten centre in the Highlands.
The wildlife charity said the young bird, whose parents are female osprey EJ and her partner Odin, is the first of two expected in the next few days.
The chick emerged from its shell late on Saturday.
Its arrival follows disappointment for the Loch Garten staff earlier this year, when Odin kicked two eggs out of the nest.
Richard Thaxton, the site manager at Loch Garten, said: "We knew hatching was imminent and at 10am on Saturday morning, we noticed a hole in the egg and a tiny beak could be seen moving inside the egg, showing that the chick had begun chipping out of the egg, which can take many hours.
"It wasn't until late on Saturday evening that we saw the chick for the first time."
Activity at the birds' nest is broadcast live on the internet from a camera at the site.
Mr Thaxton added: "It is wonderful to have a successful hatch, especially after the rocky start to the season this year, which saw Odin kick the first two eggs laid out of the nest, believing them not to be his.
"EJ then laid two more and Odin accepted these, the first of which has now hatched. All being well the second egg will hatch in a few days time."