Leading ladies: The many faces of Mary, Queen of Scots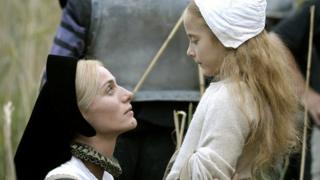 Australian actress Adelaide Kane is to play Mary, Queen of Scots in a new US drama. But she is not the first actress to portray the troubled royal.
Kane, who has previously appeared in Neighbours, will appear as the 16th Century monarch in Reign on US television in the autumn.
The 22-year-old is the latest in a long line of film and television stars to portray the queen, who was born at Linlithgow Palace in 1542.
Over many years film-makers have been drawn to the real-life story of Mary Stuart, who became queen when she was just six days old.
When she was five she was betrothed to Henry VIII of England's son, Edward.
However, this agreement was broken and she was matched up with the four-year-old heir to the French crown, Francis.
The couple were married when they were teenagers but within a year the young king was dead.
Mary returned to Scotland and became embroiled in religious unrest and political plots.
She was suspected of being linked to Catholic plots to assassinate her cousin Elizabeth I of England, who eventually she signed her death warrant in 1587.
Here are some of the leading ladies who have played Mary.
The matriarch
Title?: Mary, Queen of Scots
Who?: Veteran English actress Vanessa Redgrave played the title role in the 1971 film Mary, Queen of Scots.
Glenda Jackson, another well-known actress of stage and screen, played Mary's cousin, Elizabeth I.
Redgrave is a member of a stage and screen dynasty. A daughter of actors Michael Redgrave and Rachel Kempson, her siblings Lynn and Corin were also actors.
Vanessa Redgrave's children Carlo Gabriel Nero, Joely Richardson and the late Natasha Richardson also joined the family business.
Crowning glories?: One of Britain's best-known actresses. Honoured with a CBE. Got to intimidate Hollywood star Tom Cruise in 1996's Mission: Impossible.
Also seen in: 1966's Blow-Up, 2007 film Atonement and BBC drama Call the Midwife.
The double act
Title?: Gunpowder, Treason and Plot
Who?: Jimmy McGoverns' 2004 BBC drama featured two Marys.
Ioana Ruxandra Bratosin played the queen as a young girl and Clemence Posey as the royal in her adult life.
The drama also starred Trainspotting's Robert Carlyle and Kevin McKidd and also Tim McInnerny, who appeared in the comedy series Blackadder and rom-com Notting Hill.
Crowning glories?: Following Gunpowder, Treason and Plot, Posey has gone on to star in major films.
Also seen in: Harry Potter, Danny Boyle's 127 Hours and In Bruges opposite Colin Farrell.
The girl from Mars
Title?: Elizabeth: The Golden Age
Who?: Nottingham-born Samantha Morton played Mary in the 2007 movie opposite Cate Blanchett's Elizabeth I.
Crowning glories?: A star of big budget films including Minority Report and last year's Disney sci-fi John Carter, in which she voiced CGI Martian Sola. Got to scare Tom Cruise out of his skin in 2002's Minority Report.
Also seen in: Morvern Caller, David Cronenberg's 2012 film Cosmopolis and Synecdoche, New York.
The lady-in-waiting
Title?: Mary Queen of Scots
Who?: Irish actress Saoirse Ronan is to appear as the queen in the new film, Mary Queen of Scots. It is expected to be released in 2014.
Crowning glories?: Her appearance in Atonement - which starred another screen Mary, Vanessa Redgrave - saw her become one of the youngest people to be nominated for an Oscar.
Also seen in: Hanna, in which she played a teenage assassin opposite Elizabeth I actress Cate Blanchett, and the 2013 movie The Host.
In the past, American actress Scarlett Johansson has been linked to a role as the Queen of Scots.
Other actresses to have portrayed Mary in films include Zarah Leander in The Heart of a Queen (1940) and Magda Sonja in Maria Stuart (1927).