Scottish land reform review swamped by responses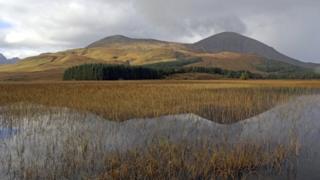 A body carrying out an independent review of land reform laws received more submissions from the public and organisations than it had expected.
The Scottish government set up the Land Reform Review Group last year following criticism that the legislation was too complex and bureaucratic.
In its newly published interim report, the body said its call for evidence received up to 500 responses.
Members of the group are still reading through the submissions.
The responses ranged from two paragraphs in an email to a 266-page report from Scottish Land and Estates, an organisation that represents the interests of landowners.
In its interim report, the review group said: "The extent of the response to the call for evidence was far greater than expected.
"If there had been around a hundred submissions, it would have been possible to analyse them by the end of January and begin more focused consideration of what was to be covered in the interim report.
"However, there were up to 500 responses received. While this was welcome as an indication of the significance of the topic, it did create difficulties as members of the group had to scrutinise more documents than they had expected."
The report said the Scottish government brought in a contractor to help analyse the submissions.
'Incomparable contribution'
However, the report added: "While that analysis is valuable, it does not cover all the detail or some of the more idiosyncratic proposals in the submissions, so members of the group are continuing to read the submissions in detail."
The group also paid tribute to one of its members who stood down in April for personal reasons.
The report said land reform campaigner Prof James Hunter had made "an incomparable contribution" to the group's work.
It added: "He left detailed working papers for the group but this report has suffered from his departure."
David Cameron, chairman of Community Land Scotland, said many points raised in the interim report were welcomed.
He said his organisation, which represents community land owners, expected the review to eventually lead to "radical" reforms.
But land reform campaigner Andy Wightman said the interim report suggested the review group was veering away from major changes to legislation.