Former Skye ferryman opposes Kylerhea tidal project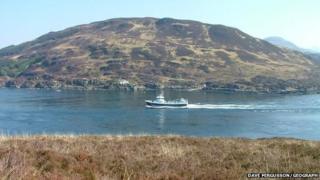 A former ferryman has criticised plans to install four tidal turbines in the Kylerhea Strait between mainland Scotland and Skye.
Roddy MacLeod skippered the small Glenelg ferry, which sails across part of the narrows, for 11 years and is one of 70 people opposed to the project.
He said buoys marking where the turbines sit on seabed could be a hazard to vessels in bad weather.
Developer SeaGeneration (SeaGen) said it would address public concerns.
Scottish government agency Marine Scotland's public consultation on the project closes on 22 June.
Highland Council is also gathering public views until 14 June.
Collision risk
In a statement, SeaGen said it was "working closely with Marine Scotland to address the issues raised in the formal consultation process".
Mr MacLeod told BBC Alba that the tidal devices would raise the risk of collisions in the strait.
He said: "SeaGen say they will have the obstacles well buoyed and with lights all over the place.
"But every additional buoy or anything you put in is making the channel narrower."
Mr MacLeod said vessels would be at greatest risk when there was a flood tide while a south westerly gale was blowing.
He said in those conditions vessels would be forced sideways and "come steaming down the tide through everything" that was there.