Accused 'bragged' about killing hears Liam Aitchison trial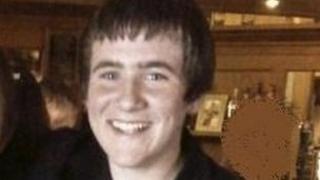 One of the men accused of murdering Western Isles teenager Liam Aitchison allegedly claimed he was involved in the killing, his trial has heard.
Stefan Millar was said to have "bragged" to cell-mate Dominic Long while they were both in Porterfield Prison in Inverness.
Mr Millar, 22, from Inverness, is on trial along with Johnathan MacKinnon, 22, of Elgin.
Both deny killing 16-year-old Liam in Steinish on Lewis in November 2011.
Mr Long appeared from custody to give evidence at the High Court in Glasgow.
Prosecutor Iain McSporran asked the 17-year-old if one of the accused had said something to him while in Porterfield.
Mr Long said "Stefan", but then added: "I don't want anything to do with this."
Stabbing claim
The witness repeatedly insisted he could not remember what was said to him.
Mr McSporran asked: "Why would you have told police about something a murder suspect had told you?"
Mr Long replied: "Because it's wrong - the murder."
The advocate depute then showed the teenager a photo of Mr Aitchison's dead body.
Mr McSporran said: "That's Liam Aitchison - he was 16. That glimpse you caught showed the right mess he was in.
"That is his father (in court). So, what did Stefan tell you?"
Mr Long said: "He told me that he killed him."
The witness claimed he was told how "they had taken him up to an abandoned place and they killed him".
The trial had previously heard how Mr Aitchison's body was discovered in a derelict building in Steinish.
Mr McSporran asked how the killing was supposed to have happened and Mr Long replied: "Stabbed."
Mr Long later claimed it was the second day he had been together with Millar in prison that he allegedly made the comment.
Mr Millar's QC Frances McMenamin asked: "So, it is the second day and he confesses to you?"
The witness: "I think it was more a brag. I would not say confess."
The trial, before judge Lord Kinclaven, continues.