MoD drops Cape Wrath land purchase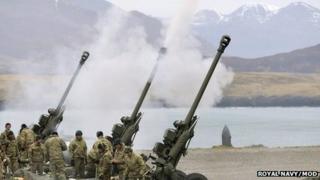 The Ministry of Defence (MoD) has dropped plans to purchase almost 60 acres (24ha) of land next to its Cape Wrath training range.
The MoD was offered the land around Cape Wrath Lighthouse and planned to create new artillery and mortar positions and troop accommodation.
The local community opposed the move and registered its interest in taking over the land.
The MoD confirmed to BBC Radio Scotland it has decided not to proceed.
The ministry already owns 25,000 acres (10,117ha) at Cape Wrath, in Sutherland on Scotland's north-west coast.
It provides an important area for UK and Nato armed forces to train in the use of live weapons, including 1,000lb bombs dropped from jets.
Last month, 29 Commando Royal Artillery used the area during Exercise Joint Warrior, a massive exercise involving armed forces from all over the world.
The MoD started negotiating the purchase of the 58 acres from the Northern Lighthouse Board land last year.
Durness Development Group sought to prevent the sale and registered its interest in acquiring the land.
The group claimed historic buildings, such as a ruined signal station, would be demolished and the public would also be prevented from using spectacular cliff paths if the MoD got the land.