Survey suggests support for public spending on Gaelic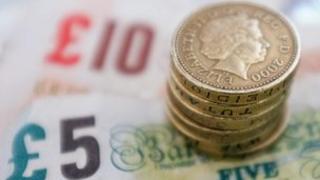 A survey of attitudes to Gaelic suggests most of its respondents support government spending of at least £24m a year on the language.
The research found 45% thought the amount of money was about right, while 16% said it was too little.
However, 33% of respondents thought £24m to promote Gaelic was too much.
The results of the Scottish Social Attitudes Survey have also shown backing for the use of Gaelic on road signs.
Four out of five people were in favour of bilingual signs in areas in which Gaelic was spoken, according to the survey.
About half of the respondents thought the signs should be available throughout Scotland. One in seven people believed signage should be in English only across the whole country.
Television and radio was where most of those surveyed heard Gaelic being spoken.
Carried out last year by the University of Edinburgh and ScotCen Social Research, the survey involved 1,229 randomly selected people aged 18 and over.
Of those surveyed, 15% reported being able to speak at least a few words of Gaelic, 25% were able to understand an odd word and 0.5% were fluent speakers of Gaelic.
The level of Scottish government spending on Gaelic has been criticised in the past.
Two years ago, a language professor said some sections of the Scottish media's coverage of the language had gone beyond fair comment and good taste.
Prof Kenneth MacKinnon, of the University of Aberdeen, studied newspaper clippings for a year.
He said on occasions reporting on public spending on Gaelic degenerated into inaccuracy, prejudice and mockery.
Use of bilingual road signs has also been a fiercely debated issued in recent years.
Caithness councillors' opposition to Highland Council's roll-out of bilingual road signs to include the far north drew a comment on the matter from the Duke of Rothesay in 2010.
Councillors said their objection was not anti-Gaelic and they were listening to a local view that the money would be better spent on other services.
Prince Charles, while attending the Royal National Mod in Thurso, said he would question suggestions Gaelic had no direct relevance to Caithness.
Scotland's identity
In 2009, then transport minister Stewart Stevenson said there was anecdotal evidence of motorists performing U-turns on the carriageway after misreading bilingual road signs.
But research commissioned by the government later concluded that the signs did not raise the risk of accidents.
Television and radio has previously been indentified as a major player in raising awareness of Gaelic.
A Scottish government-commissioned survey of 1,009 adults from across Scotland found 61% were made aware of the language through its use in the media and 39% through education.
A Scottish government spokesman said: "Gaelic language and culture are an integral part of Scotland's identity. This research shows the very positive attitudes to Gaelic from across Scotland.
"The continued increase in demand for Gaelic Medium Education clearly demonstrates that parents are not only recognising the impressive learning benefits that come with a bilingual education, but that we are securing a sustainable and vibrant future for the language in future generations."