Inverness West Link: Vote favours Option Six route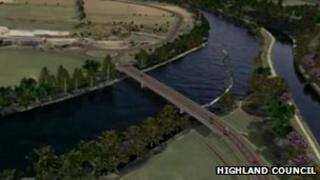 Highland councillors have voted overwhelmingly in favour of pushing ahead with a planned route for a controversial new road.
During a meeting of the full council, councillors voted 66 to six against carrying out a review of the Inverness West Link.
The preferred route known as Option Six is opposed by a public campaign.
A protest was held outside Highland Council's headquarters as councillors arrived for the meeting.
The road has been proposed as a solution to city centre congestion and as a way of easing travel across Inverness from the A96 and A82 trunk roads.
Opponents to Option Six say it will lead to the loss of public green spaces.
Council leader Drew Hendry said he was pleased the vote favoured progressing the chosen route.
He said: "The route was the subject of rigorous examination and I am convinced the route is the best possible option on technical, environmental and sustainability grounds.
"We have committed £1.3m to developing this route and we will now press ahead with a planning application by late summer."
Watchdog invite
Depute leader David Alston said he strongly supported the choice of the chosen route.
He said the proposal had been the subject of "rigorous scrutiny" by professionals and councillors. Mr Alston added that no viable alternative option had been presented by objectors.
Last week, Highland Council referred itself to a public sector watchdog over its handling of the West Link.
Audit Scotland has been invited to investigate allegations that the council's process for selecting the road's route has not been transparent.