Life sentence for murderer who has five years to live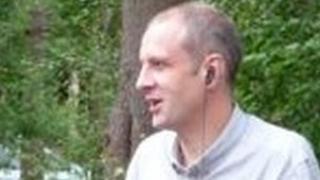 A man with a life expectancy of five years has been jailed for life for the murder of a friend.
Robert Macgillivray, 50, of Inverness, has been ordered to serve at least 16 years in prison before he can seek parole for killing Mark Hunter, 37.
The High Court in Edinburgh had heard that it was likely Macgillivray would have had to pause to regain his strength during the attack.
A jury found him guilty of murder last month. He denied the charge.
When he appeared for sentencing, Macgillivray sat in the dock with an oxygen bottle beside him.
Judge Lord Brailsford told him that he accepted the medical prognosis was "exceptional".
But the judge added: "I do not consider, having regard to the need to impose a life sentence, in the circumstances of this offence, it has any particular relevance as far as sentence is concerned."
Mr Hunter was struck more than 80 times with a knife at Mr Macgillivray's home in June last year.
He suffered so many cuts and bruises that a pathologist carrying out a post-mortem examination gave up counting, the court heard.
Medics said Mr Hunter had been killed by being stamped on, or possibly a jump with both feet together - smashing his ribs and preventing him from breathing.
Because of his health problems, which include emphysema, Macgillivray was alleged to have carried out the attack over a period of hours.
Macgillivray, who can struggle to walk, sat throughout his six-day trial breathing oxygen through a tube.
Following his arrest he had accused Mr Hunter of trying to steal his brandy after turning up at his home.
Police said Mr Hunter had been murdered in a "brutal" and "sustained" attack.
Det Insp Andy Logan said: "This was a tragic set of circumstances in which Mark Hunter was murdered over a bottle of brandy.
"Unfortunately, alcohol is a frequently present factor in violent crime, as it was in this incident, and it is the families of those involved that have to live with the consequences and who suffer the most."
Liam Murphy, procurator fiscal for the north of Scotland, added: "Knife crime is a scourge on our society and we will continue to take every step possible to prosecute those involved in these types of offences."