Inverness West Link: Highland Council invites scrutiny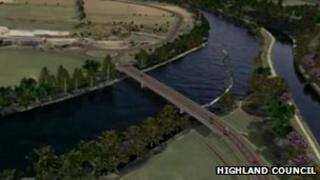 Highland Council has referred itself to a public sector watchdog over its handling of the Inverness West Link.
Audit Scotland has been invited to investigate allegations that the council's process for selecting the road's route has not been transparent.
The West Link has been proposed as a solution to city centre congestion and as a way of linking up key roads.
Campaign group Save Canal Park said the chosen route would result in the loss of public green space.
Highland Council has made public the contents of chief executive Alistair Dodds' letter to controller of audit Fraser McKinlay.
In the letter, Mr Dodds said: "There have been a number of comments made, including by members of the public, that the project has not been properly developed, that there has been undue influence by certain developers, that the process has not been transparent and there have been flaws in the council's decision in reaching a conclusion on its preferred option.
"I am writing to you to make you aware of the comments which have been made and to make it clear that we would welcome any scrutiny from Audit Scotland in relation to this major project.
He added: "We would co-operate fully with any investigation, either in relation to the involvement of council officers or the decision making of elected members."
Audit Scotland said it had received the letter and was considering what action to take.
Improved facilities
In a separate development in the West Link row, Inverness Area Community Council Forum has written to Highland Council asking for a review of the project.
Earlier this week, a demonstration was held by people opposed to the road's proposed route.
More than 100 people turned out for the Save Canal Park event in Whin Park.
Highland Council said the road would result in the loss of one of four sports pitches, but added that new improved facilities would also be created.
It said a new pitch would be created at Ness-side, and there would be a new four-pitch sports facility at Torvean.