Dingwall pubs denied early opening on Sunday match days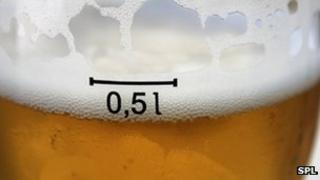 Requests from three pubs to be allowed to serve drinks ahead of two Sunday football matches being played in Dingwall have been declined.
Dingwall British Legion, The County Tavern and The Mallard wanted to open at 11:00 when Ross County FC plays Celtic and Inverness Caley Thistle.
Highland licensing convener Maxine Smith refused permission under delegated powers.
She raised concerns of drunken fans disrupting church congregations.
Ms Smith also said the early drinking would also come at a time when families with children would be in town enjoying their day off.
The councillor has, however, granted Ross County's request to serve alcohol from 11:00 at its stadium's hospitality suite.
Police Scotland opposed the applications from the British Legion, The County Tavern and The Mallard but not the football club's request.
Ms Smith said her refusals did not imply that all football fans would be getting drunk before the games.
However, she said she was worried about some supporters, especially some away fans who may already have been drinking on their journey to Dingwall.
'Failing economy'
Ms Smith said: "These fans would have to pass by churches where there would be services being held and congregations coming and going, as well as families and children walking about the town on their day off.
"I am also concerned about more fans being turned away at the turn styles and what they would do to fill their time until the match finished and they went back onto the coach."
She added: "It is not my role to take account of the failing economy and help out traders by allowing early openings, my key job is to protect the public and where alcohol is the primary reason for visiting a venue I am afraid I am really not minded to grant an extension at this time."
In March, the BBC Scotland news website reported that licensing officials were concerned about allowing pubs in Dingwall to open at 10:00 when Ross County have home matches with an early kick off.
They said it could be an issue because County's ground was close to the town centre.
The Highland Council officers said early kick-offs at County's local rivals Inverness Caledonian Thistle were less of a concern because that club has an out-of-town stadium.
Ms Smith said the officers' concerns would be debated fully at a later date.