Scottish wild land map a UK first, says heritage agency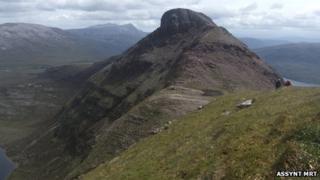 What has been described as the UK's first map of wild land has been published by Scottish Natural Heritage.
It involves almost four million acres of land in Scotland deemed to be natural, remote, with challenging terrain and few modern structures.
SNH said the map was part of government efforts to protect the areas and guide development in the landscapes.
The 43 areas marked on the map include Black Laws, Cape Wrath, Jura, Lochnagar, Merrick and Schiehallion.
The Mountaineering Council of Scotland (MCofS) said the map could lead to mountain areas becoming "islands" surrounded by wind farms on nearby land not designated as wild.
The map forms part of the Scottish government's new National Planning Framework (NPF3) and draft Scottish Planning Policy (SPP).
The two documents strengthen environmental protection for Scotland's wildest and most scenic landscapes, the government said.
They also prohibit the construction of wind farms in 19% of Scotland which is covered by national parks and national scenic areas.
'Impressive wildlife'
SNH said the map was the first of its kind in the UK.
Other areas included are Skye's Cuillin mountains, the South Uist hills and Quinag in Sutherland.
Knoydart, often described as Britain's last wilderness, also features.
The largest area on the map are the Cairngorms which are listed on the map's table as covering more than 390,416 acres (157,996 ha).
Andrew Bachell, SNH director of operations, said wild land was a valuable asset.
He said: "It makes an important contribution to our tourism industry and images of wild places also help support Scotland's worldwide reputation as a beautiful and impressive country.
"It makes a crucial contribution to our quality of life and we know that most Scots consider wild places to be important to them. Wild land also supports biodiversity and is often associated with our most impressive wildlife."
Mr Bachell added: "Our new map will enable planners and developers to take account of wild land, particularly in planning future wind farm and any other large scale developments."
MCofS chief officer David Gibson said the council was still assessing the map and its supporting information
He said: "We are disappointed at the apparent lack of provision of buffer zones around national scenic areas and national parks.
"From the map it appears that mountain areas in Scotland could appear like islands surrounded by a sea of turbines."
Mr Gibson added: "Hardly a positive move in this Year of Natural Scotland."