Survey to seek out killer whales off Caithness coast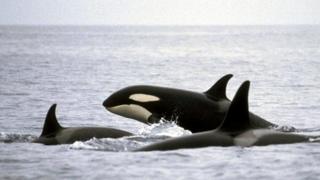 A marine wildlife charity is to carry out a survey for orcas, other whales and also dolphins off Scotland's north mainland coast.
Sea Watch said the work would involve an area of sea between Caithness and Orkney where offshore marine renewable energy is to be installed next year.
A series of three-hour whale watches are to be held at Duncansby Head from 18 to 25 May.
Sea Watch said May was a peak time to see orcas, or killer whales.
Volunteers are being sought to take part in the survey.
Regional co-ordinator Colin Bird said the work would aim to build on data gathered by watches last year.
He said: "Last year we found that most of our sightings were three hours either side of high tides.
"This year we are targeting watches during those periods and are hoping that volunteers will once again join us, even if it is just for a few of the three-hour periods, so we can develop a chain of watchers."
Mr Bird said the information from the survey would help scientists to understand what effect, if any, marine renewable projects might have on marine animals.