Gravestones vandalised at Old St Peter's Church in Thurso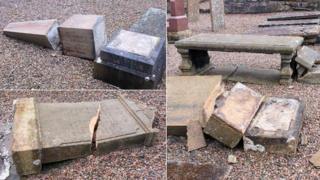 Gravestones have been vandalised at a historic ruined kirk in Caithness.
Five stones at Old St Peter's Church in Thurso, a scheduled monument, were toppled over and smashed some time between 14 and 23 April.
Alan McIvor, chairman of Thurso Heritage Society, said it was the worst act of vandalism he had seen in the kirk's churchyard.
A church has stood on the site since the Viking occupation of the far north of Scotland.
Mr McIvor said: "With the size of stones that have been damaged it is obviously deliberate. Many of these memorials were solid and it would take some effort to move them."
He said Old St Peter's was important to the history of Caithness and Scotland.
The society chairman said: "One of Scotland's oldest churches, it acted for some time as the main church for the county when it was overseen by the Bishops of Caithness.
"To give some idea of its age, the church, though smaller in size, was standing during the latter part of the Viking occupation. We do know that the first stage of construction likely took place around 1125."
Highland Council owns the site. Thurso councillor Donnie Mackay has condemned the vandalism.
Head shaved
Old St Peter's has a long and colourful history.
Residents of Thurso fought off an Irish raid near the church in 1649.
Led by Sir James Sinclair, the locals armed themselves and defeated the raiding party headed by Donald Macalister Mullach.
Mullach was said to have been killed by one of Sinclair's servants cutting a button from his master's coat and firing it from a musket.
Old St Peter's kirk session would hold hearings and decide how people whose actions were deemed to be criminal should be punished.
In 1701, a woman who had been "intimate" with the mate from a Dutch ship had her head shaved and was paraded through Thurso by the town's hangman.
Later records detail young boys in the congregation sitting in the rafters to listen to sermons.
In 1726, the records tell of some boys endangering themselves and disturbing worshippers below by falling from the beams.
The kirk session also received a letter in 1786 complaining about dung and rubbish being dumped on graves.