'Enthusiasm' for bringing bears and lynx back to Scotland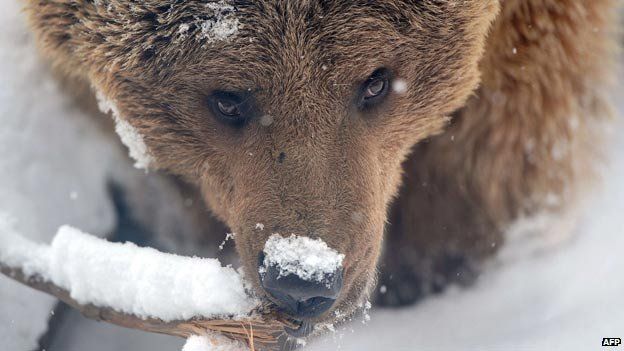 An author of a new book about a fictional attempt to reintroduce bears to Scotland says there is interest in bringing the animals back for real.
Environmental campaigner Mandy Haggith was involved in a debate on bears, lynx and wolves.
She said the discussions revealed an enthusiasm among those involved for the predators to be a feature of the Scottish landscape.
The debate was held in Lochinver in Sutherland on Monday to mark Earth Day.
The event included a visit to Inchnadamph Bone Caves where brown and polar bear remains have been found.
Bears are thought to have died out in Scotland in the prehistoric period.
Haggith's new novel Bear Witness tells the story of an activist who fights for bears to roam free in Scotland.
She said: "We had a cracking debate.
"It was great to see so many people from the community discussing how this land could be inhabited again by the full quotient of animals that are native to it.
"The debate showed that there is a real appetite for a new vision for the landscape, and enthusiasm for sharing it with other animals like bears, lynx and wolves."
Reintroducing lynx and wolves has been examined in the past.
Alladale Estate, at Ardgay in Sutherland, had proposed releasing four wolves from Romania in a secure area as part of a reintroduction programme.
However, in May 2010 the plan was dropped in the interests of the animals' welfare.
General manager Hugh Fullerton-Smith said it was still the long-term ambition of the estate to introduce wolves, but into a much larger area.
Billionaire Dutchman Paul Van Vlissingen, who was the biggest foreign landowner in Scotland, proposed reintroducing wolves and lynx to control deer populations.
Related Internet Links
The BBC is not responsible for the content of external sites.