Ewan McGregor and other Scottish links with Star Wars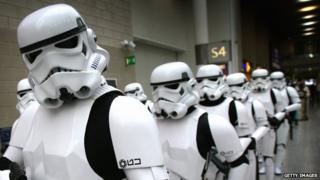 Disney says a new Star Wars film will appear yearly from 2015. But while the stories might be set in a galaxy far, far away, Star Wars has some interesting connections closer to home.
Star Wars will blast back to the big screen with movies alternating between those expanding the saga and spin-off character-based films.
At first glance the franchise's galaxy populated with Jedi, Wookies, Ewoks and jet pack-propelled bounty hunters seems a long way from Scotland.
But given a closer look, a tartan-tinged Force runs strong through the Star Wars films and comic books.
Some of these connections are well-known.
They include Scots actor Denis Lawson playing rebel fighter pilot Wedge Antilles in the original film trilogy.
Lawson's drama school class-mate, Carnoustie-born Ian McDiarmid, starred as the Empire's powerful emperor in 1983's Return of the Jedi and appeared in the most recent films: The Phantom Menace, Attack of the Clones and Revenge of the Sith.
Crieff lad Ewan McGregor - Lawson's nephew - starred as a young Obi Wan Kenobi in those last three movies. And McGregor says he is keen to reprise the role in any of the new flicks.
Talking to Newsbeat entertainment reporter Natalie Jamieson last month, the actor said: "If they needed Obi Wan Kenobi I would rather it was me than someone else, of course."
Another Scot who appeared in The Phantom Menace was Glasgow-born Ray Park, who played Darth Maul, a fierce warrior serving the evil Dark Side.
Legendary Star Wars designer and illustrator Ralph McQuarrie, who died in March last year, is often flagged up as a famous bearer of the Scots surname on clan websites. The Indiana-born artist's middle name, Angus, also reinforces Scottish ancestry that the Clan MacQuarrie Society said can be traced to the Hebrides.
Frank Fisher, of the Clan MacQuarrie Society, said: "The 1930 census lists his father as Ralph born in Canada about 1902.
"His grandfather, was George born about 1878 on Cape Breton, Nova Scotia. George's father was Angus also born on Cape Breton about 1852 and I believe that his father was Archibald who came to Cape Breton from Eigg."
Links can also be drawn to the first of the planned new movies.
Michael Arndt, who has been brought in to write the script, is credited with providing additional screenplay material for Brave, Disney-Pixar's 2012 Oscar-winning animated adventure about a Highland princess.
Brave's director Mark Andrews was a huge fan of George Lucas's Star Wars films as a boy. He went on to write storylines for the Star Wars: Clone Wars animated TV series, with one of his stories helping its makers win an Emmy in 2004.
In an interview with BBC Scotland news last year, Andrews said he hoped some of his future work might lie in Star Wars again.
He said: "George created this incredible universe and the way has been opened to continue telling Star Wars stories, and exploring some of the many other characters.
"Hopefully, I might be able to be part of that."
JJ Abrams, meanwhile, will direct the first new Star Wars film and appears to have a soft spot for Scots.
Abrams was among the creators and writers of the plane crash survivors' mystery Lost. The US TV series was aired between 2004 and 2010 and featured a Scottish character called Desmond David Hume, whose back story involved service in the Royal Scots.
Desmond was played by actor Henry Ian Cusick. Born to a Peruvian mother and Scottish father, Cusick played his role with a Scottish accent.
But for his forthcoming film, Star Trek Into Darkness, director Abrams reportedly sought to tone down the Scots spoken by the star ship USS Enterprise's Celtic engineer Scotty.
English actor Simon Pegg is said to have been asked to rein in the accent while playing Scotty to make sure he can be understood by American audiences.
The Scotsman reported Pegg saying: "Because I've got Scottish family, JJ lets me put Scottishisms into the script. But one day he came up to me on the set and said, 'Simon, we have to understand what you are saying.' So I pulled it back a little bit."
It is not just the films where Scots pop up like Jawas jumping from behind a rock to ambush a wandering astromech droid.
Edinburgh illustrator Tanya Roberts has provided art work for Star Wars: The Clone Wars comics.
In a BBC interview last year, she said: "Growing up, I would just draw illustrations inspired mainly by the animated movies I watched.
"So I moved to go into the animation industry, but when the 2D industry folded like a pack of cards I didn't know what to do.
"It took a friend to steer me in the direction of comics. That made me realise that I was pretty much just drawing comics the whole time, so it just fitted.
"I got my first gig four years ago drawing Star Wars and I never looked back."
In the past, veteran Orkney-based artist Cam Kennedy illustrated Star Wars comic books Dark Empire One, Dark Empire Two and a 1995 comic about bounty hunter Boba Fett.
During an interview with BBC Scotland news, Kennedy mentioned coming up with a design of a space ship he was so pleased with that he kept it to himself rather than hand it into the control of Lucas.